Limerick's Citizen Innovation Lab is a place for observation, co-creation and experimentation. It is a place where people can take part in activities to help shape a sustainable future for the city. A future where Limerick can become more sustainable, beautiful and inclusive. Through the Citizen Innovation Lab people can work together to explore local responses to the challenges we face. Challenges like climate change.
Limerick is to become a climate-neutral city by 2050. This means some things will change through a process called decarbonisation. There will be new technologies, new opportunities and changes in our day-to-day lives. The goal of the Citizen Innovation Lab is to help empower people in Limerick to take part, to co-create this future together.
The Citizen Innovation Lab includes a Citizens' Observatory, an Engagement Hub, a digital platform and a programme of events. It is co-located with the School of Architecture at University of Limerick (SAUL) Fab Lab Limerick in UL's City Campus. It operates as a collaboration between Limerick City and County Council and the University of Limerick.
How we work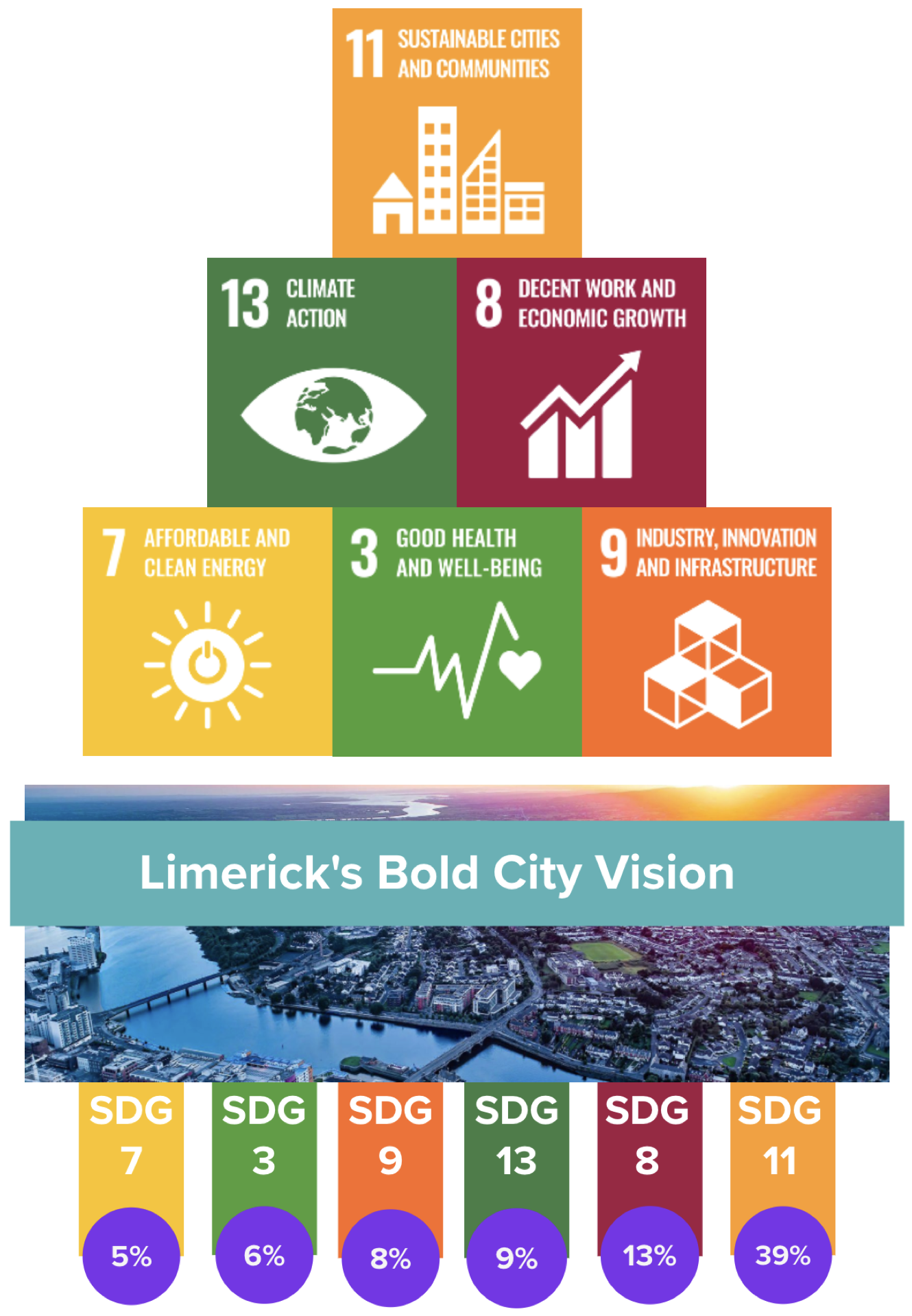 UN SDGs identified as being the most important by people in Limerick, Limerick City and County Development Plan consultation, 2021.
The Citizen Innovation Lab adopts an approach to citizen participation and community-led open innovation called CommunityxChange developed by the +CityxChange H2020 Research and Innovation Project. It places people and creativity at the centre of the process of decarbonisation and positions this within a holistic transition towards the UN SDGs.
The Space
Citizens' Observatory
The Citizens' Observatory provides access to digital tools so people in Limerick can make and share observations on their local environment and buildings. It is also the location of the 3D-printed city model.
Engagement Hub
The Engagement Hub is a meeting space and a hub for collaboration and co-creation where co-design workshops and creative engagement events take place.
Fab Lab Limerick
Fab Lab Limerick is a maker space and digital fabrication laboratory run by the School of Architecture at University of Limerick. This is a space which has as its central ethos a public facing, urban embedded research role. The School of Architecture's city Fab Lab is a centre of research contributing consistently to developing research projects with State and Local Authority partners, communities, activists and artists in various combinations as questions for society, both pragmatic and theoretical, arise. See fablab.saulstudio.ie for more details.
Take Part
Activities are free of charge. The Citizen Innovation Lab runs Open Calls, City Engage Weeks, and activities linked to collaborative research projects. The Citizen Innovation Lab can also host self-organised or community-organised projects that address its Innovation Agenda.
Contact the Citizen Innovation Lab if you would like to suggest an activity or hold an event.