As a Positive Energy Champion, I linked in with 6 primary schools in the city and asked families to plot the hazards and safety measures that they encountered on their journey to school - either walking or cycling. I used the +CityxChange Community Mapping Tool, a mobile phone app you can use to crowdsource responses to questions posed where you can position your responses on a map. I invited the schools and members of the public to use the +CityxChange Community Mapping Tool over two weeks in July. The crowdsourced mapping exercise was aimed both at families that use active travel to get to school, and families that don't  because of the hazards this presents. During my campaign, I received help from An Mohodhscoil, the Limerick School Project, Scoil Ide. St. Pauls, Gaelscoil Sairseal and St. Brigids national school, their families and the Limerick Cycling Campaign.
We had 97 submissions, a really good level of engagement and the +CityxChange Community Mapping Tool was fantastic! I was able to use it to visually demonstrate gaps and barriers experienced by families and children in Limerick who want to walk and cycle to school.
94% submissions concerned negative infrastructure and 6% positive infrastructure
77% of submissions came from families that cycle to school
Submissions came from those that cycle every day (35%) as well as families that walk or cycle occasionally (33%).
89% of families were travelling to school with 2 or more children.
The overall ambition is that the analysis of the submissions will inform a wider submission to the National Transport Authority (NTA) on the newest version of the Limerick Transport Strategy (LSMATS) released to the public early in 2022 - on behalf of children and families in Limerick.
Hopefully the final report will add value to the upcoming second phase of the transport strategy and demonstrate that Limerick families do expect better infrastructure to support their low-carbon transport needs and their desire to use active travel means to get to school, work and activities. Feedback from all of these projects is fed into decision-making fora within the Council and form part of agenda setting over the next 12 months. Next, I would like to Work with the Local Authority and the NTA to ensure that the barriers and hazards identified in this report are remedied and safer routes to school are introduced without delay.
For more on the Limerick Energy Model click https://citizeninnovationlab.ie/tools/community-mapping-tool/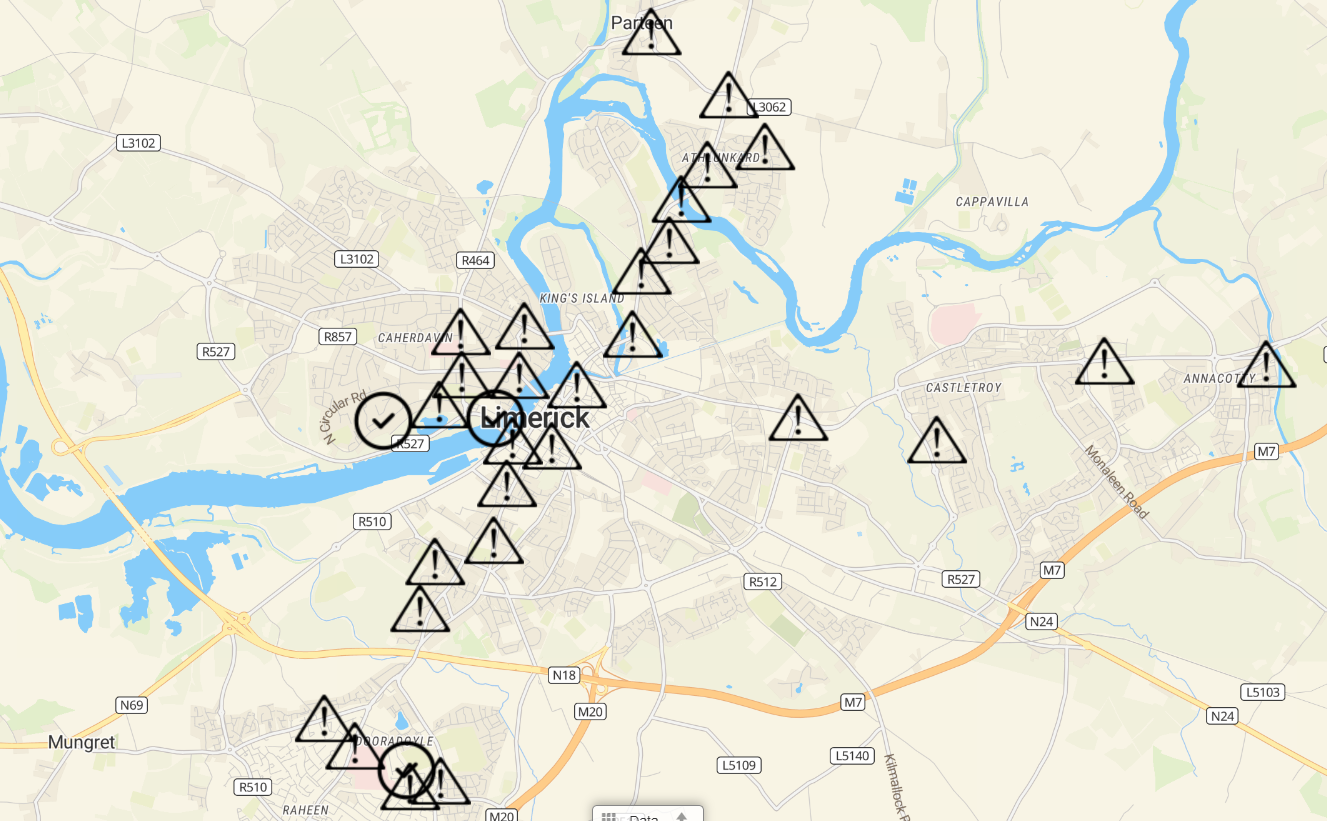 A .CSV file of Anne's map can be downloaded here.