The aim of my Positive Energy Champions campaign was to empower the people of Limerick to adopt cycling as a low-carbon mode of transport and to encourage people to cycle as a form of active travel. I had so many ideas about what I wanted to do as a Positive Energy Champion that I found it hard to narrow down the scope of my project. By working with the +CityxChange Team, I was able to identify something meaningful to do. I asked people to help describe what a future bike share scheme might look like in Limerick. Using the +CityxChange Community Mapping Tool they could pinpoint areas on a map of Limerick city where they thought a bikeshare station should be positioned. We were able to crowdsource a map describing a future bike share scheme that truly serves the public need. I was delighted when this data was requested by someone working in Limerick City and County Council to inform how the new bikeshare scheme could operate!
For my  "Empowering Communities" campaign I learned that it is hard to initially get engaged with a community, but once you start it is a matter of networking and linking up with other networks and this is how you can encourage people to take part. People really do want to get involved in the development of their city but it is time consuming to gather the data necessary. I used Twitter, LinkedIn and Facebook to promote my campaign and shared the link to the +CityxChange Community Mapping app with my local community group chat, my social tag rugby group and to my various social media timelines.
Improving the public transport network has to be the first step. Cars will always exist in a city. However the council can reduce the use of cars as the main mode of transport by improving, creating and fostering more green ways of travel. The current public transport system is unreliable, and does not serve the needs of the entire city (no bus route from the city centre all the way out to Mungret Park).  I think there is a real need to look into how we can have electric public transport, maybe through tax incentives to have solar powered public transport and to use more solar power within homes in the city centre. The key is to reduce congestion within the city centre and to increase incentives for more active travel.
It really was a fantastic achievement for Limerick to be chosen as one of the cities within the +CityxChange project. I thoroughly enjoyed being part of the Positive Energy Champion campaign, engaging with energy citizenship and exploring how important engagement with the people living in a city really is for the success of projects that directly affect them. It was a great opportunity as a citizen to be part of an exciting time in Limerick and to explore how the city can develop. 
I think I helped to highlight that there is a public interest in cycling as an alternate and low carbon mode of transport in Limerick city. I think my project proved that people care about cycling and want a safe, workable bike share network that will give them choice in how they move around the city. It was important to me to show that even though I am not a native of Limerick myself, that anyone that is passionate about a public cause can put themselves forward and get involved and make a difference. Every little bit helps to kickstart a movement. I would like to get involved as a public figure, to try to initiate further change and interest in people about their community and city.
For more on the Limerick Energy Model click https://citizeninnovationlab.ie/tools/community-mapping-tool/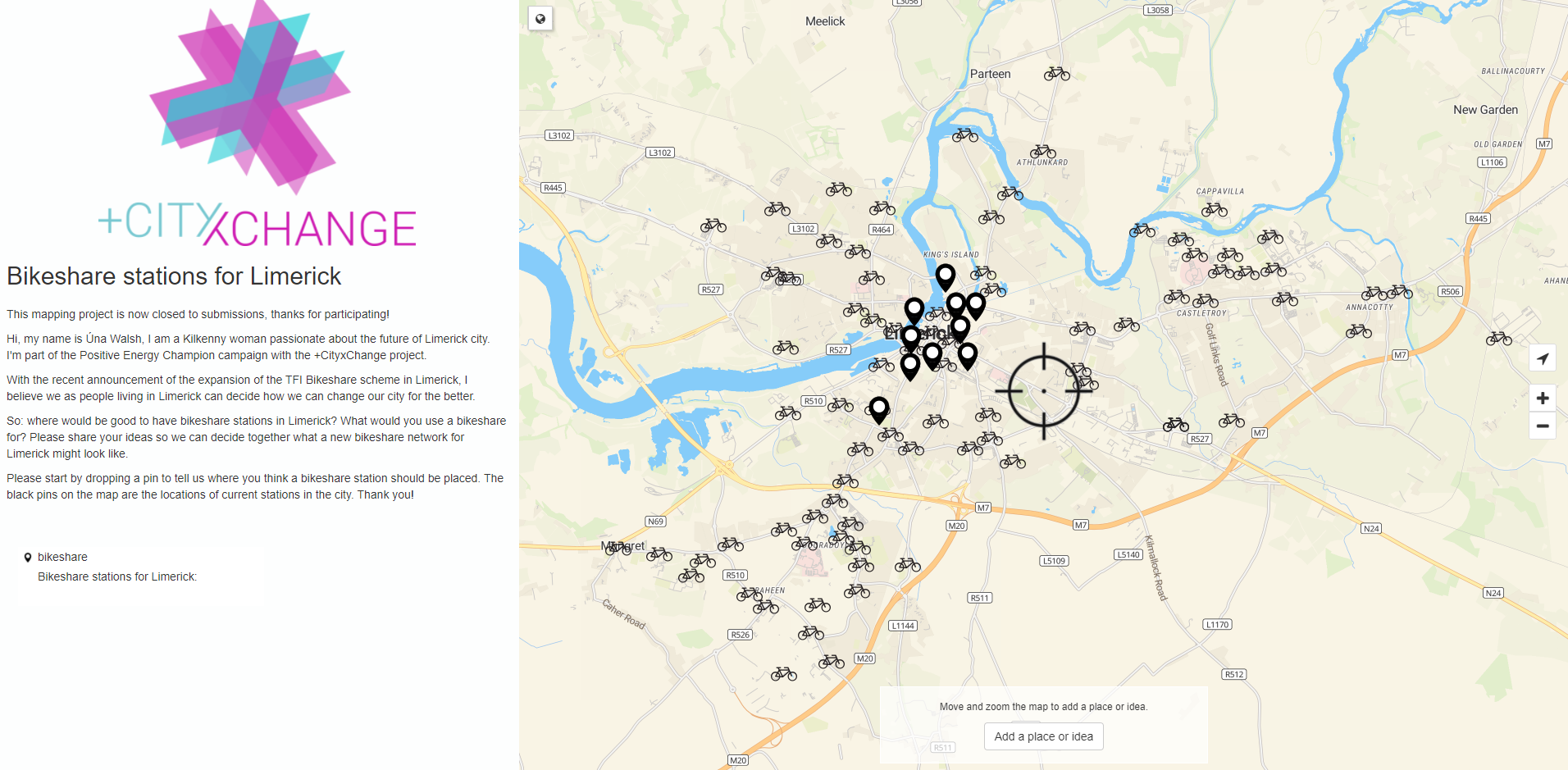 A .CSV file of Una's map can be downloaded here.